Home
Talk

8
302pages on
this wiki
Featured article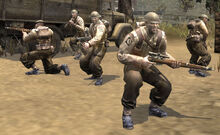 The Infantry Section, also known as the "Tommy Squad", is the core infantry unit for the British faction of Company of Heroes: Opposing Fronts. Slower and more expensive than almost all other other infantry units in the game, it is nonetheless extremely versatile.

The squad, made up of 5 soldiers, is responsible for the construction of forward defenses, capturing sectors, and defending these sectors from enemy attacks. In this capacity, they form the backbone of the British Army. British Infantry Sections excel at defending sectors against enemy infantry attacks.
What's new on Company of Heroes Wiki (news you can edit!)
25th June 2013

Company of Heroes 2 released.
7th June 2013

Company of Heroes 2 Beta Chronicles Invite. Sega is partnering with the wiki to invite you to play the beta and write your experiences of the game. More information can be found here.
25th July 2012

Relic & THQ have exposed more gameplay mechanics today. With the unveiling of a new feature; ColdTech. Many more benfits and hinderances will be available in Company of Heroes 2 with the advent of breakable frozen rives, deadly blizzards and readable tracks.
10th July 2012

Relic and THQ are constantly bringing out new information on Company of Heroes 2. Head over to the official site to get everything on CoH 2.
7th May 2012

Company of Heroes 2 was announced by THQ, which will take place at the Eastern front where you will take control of the Red Army to repel the invading German invasion.
Relic will again be developing the game, with their Essence game engine. THQ are also saying the game will be released in early 2013.
3rd March 2012

The chat function has been enabled, and the wiki navigation has had links added, including Wiki activity.
1st March 2012

Aspyr brings you the Company of Heroes: Campaign Edition, which is now available on the Mac - bringing the award winning campaign experiences from the PC versions of COH to Mac users. More information here
Helping out
Use the box below to create an article!
List of Games

Company of Heroes
Company of Heroes: Opposing Fronts
Company of Heroes: Tales of Valor
Company of Heroes: Eastern Front
Company of Heroes: Online
[Template fetch failed for http://community.wikia.com/wiki/Template:Wikia_Gaming_Footer?action=render]